Decision Time – Create Content Yourself, Outsource, USE PLR Or a Combo… BUT Be the CEO. 🙂
Once you know who you're talking to and you've blocked time off on your schedule to create content and products – you're going to have to decide how you want to spend your time.  
Think about these options:
Do you want to create everything yourself?  

Hire a ghostwriter or graphic artist?  

Use done-for-you content and low product products with commercial rights? 

Or do a combo of all of these?
Let's talk about each one…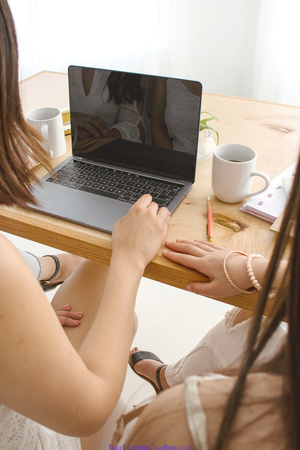 Create Content From Scratch
When you create content from scratch you'll need to figure out your topics, do research, and then write all of the content.  You'll also want to make sure that you're using stock images or photos that illustrate your words.  This could be stock images as stated above, but it could also be screenshots when you're doing a tutorial.
Find the most comfortable way for you to write and start.  I'm not sure why, but I've found that a lot of my blog posts end up that way from writing to my email list.  I love writing to my list and sometimes the emails turn into something more.
That isn't always the case, but my point is that you want to go with what feels right to you.  You can use Google Docs, start right inside your site as a blog post draft, use software like Scrivener, or Word.
Schedule your content creation time and be consistent.  Turn it into a habit.  When you do it consistently and turn it into a habit, it isn't as hard to do the process as time goes on.
Mix It Up When You Create Content 
You can write from scratch in some cases, have some content written by a ghostwriter, and then also use private label rights.  This is your business and your content marketing plan.  Do what works for you.  
This is how I normally approach my content and low-content products.  It depends on the project I'm working on.
No Shame Or Guilt Please
However, you want to handle your content marketing and low content product creation just remember that there's no shame in handing over some of your online marketing tasks to others who can specialize in this for you and that includes content and product creation.  
Like I said before I use the above combo in my business all the time because I can't keep up with all the content needed and creating both of these is my business.
For most people, content or creating low content products isn't their passion – something else is, but I'm sure you quickly realized content creation, graphics, and printables, are some of the many tasks that are now on your plate.  They have to be if you want to get traffic to your products, services, site, and offers so that your audience can find you online.  
It makes sense to hand some of it over to a pro….. 
And it is okay to do that.  
Don't feel guilty because you can't do it all.  
Use PLR, Canva Templates & Commercial Use Products
Another option is to purchase done-for-you content, Canva Templates or low content products that come with commercial use rights.
This is one of the areas that my business,, Your Essential Toolbox, who have you covered.  🙂  I provide a way for you to quickly and easily get content up on your site and create low content products such as planners, journals, and coloring books.

I've designed these types of products for over six years, but now I'm offering a PLR Resell License on some of my products.  What does that mean?  It means you can use them to create products and sell them with PLR rights.
Outsourcing Your Content & Low Content Product Creation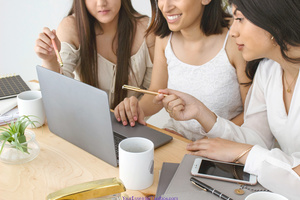 So what do you do if you'd like to outsource some of these tasks?
To begin with, the best way to approach this is to pick the content you struggle with most, whether it's low content products like planners, coloring designs, clip art graphics, or journals with writing prompts.  
Give yourself permission to allow someone to step in and deliver a ready-made version for you to upload. You can find freelancers for graphics, planners and content on sites like Fiverr, Upwork or OnlineJobs.ph. 
Tips On Outsourcing
It depends on what you're looking for which site you'll want to go with.  
Tip 1: Make sure you have a job description before you pay any if the site requires a membership.  I go to OnlineJobs.ph for graphic designers.  They have a monthly fee that has gone up quite a bit since I started using them, so I make sure that I know exactly what I'm looking for and that my job description is done.  That way I can post my ad and wait for responses.  
Tip 2: I also ask them to contact me via email vs inside the platform.
I want to tell you a story about when I started my business.  I knew that I wanted to outsource and grow a team from the beginning, so I did almost immediately.  I sorta knew what I wanted people to do, but I thought they'd know the steps to do everything.  So I'd hire people expecting them to know what I wanted and how to do.
I'm sure you can probably figure out this approach didn't work.  🙂  I wasted a ton of money, time, and my sanity.  Plus I'm sure I was a horrible person to work for because I didn't give very good instructions.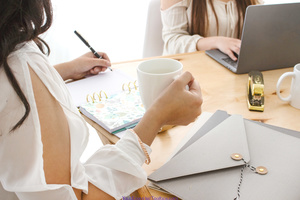 Tip 3: Before you start outsourcing you'll want to master the production or at least the basic steps.  Do it a few times, start to write your instructions and checklists.  Know what they're doing (the tasks), how long it will take them, and what you want.
What I didn't understand at the beginning is that if you don't know these things – you're giving up being a CEO of your business.  I was letting other people determine and make decisions about my business that they shouldn't have been making.
Tip 4: Don't be afraid to take control – you are the CEO
I remember the first time I really understood this.  I bought an outsourcing course and the woman teaching it said, "You are the CEO."  She was very adamant about it.  It was like she was giving me permission to think of myself as the CEO.  I never thought of myself in that way before – I mean I was JUST working online trying to make money.
I wasn't JUST doing that.  JUST is a horrible word.  You're not JUST anything.  You ARE a CEO.  I AM a CEO.  🙂
By approaching outsourcing this way and then going through that class I learned a very valuable lesson.  I am the CEO.  That is my job.  Whoever my team or outsourcers are, I need them to help me bring my vision to light.
This mindset shift helped me outsource better.  It made me realize that I had to  understand my business before someone else could.  I also took responsibility for the systems in my business.  By doing this I knew all the ins and outs.  I went through each part of it.  I was better able to explain how to do them to my outsourcers.
Even if you decide to outsource – make sure you know how to do the tasks.  And ALWAYS remember you are the CEO.
~April